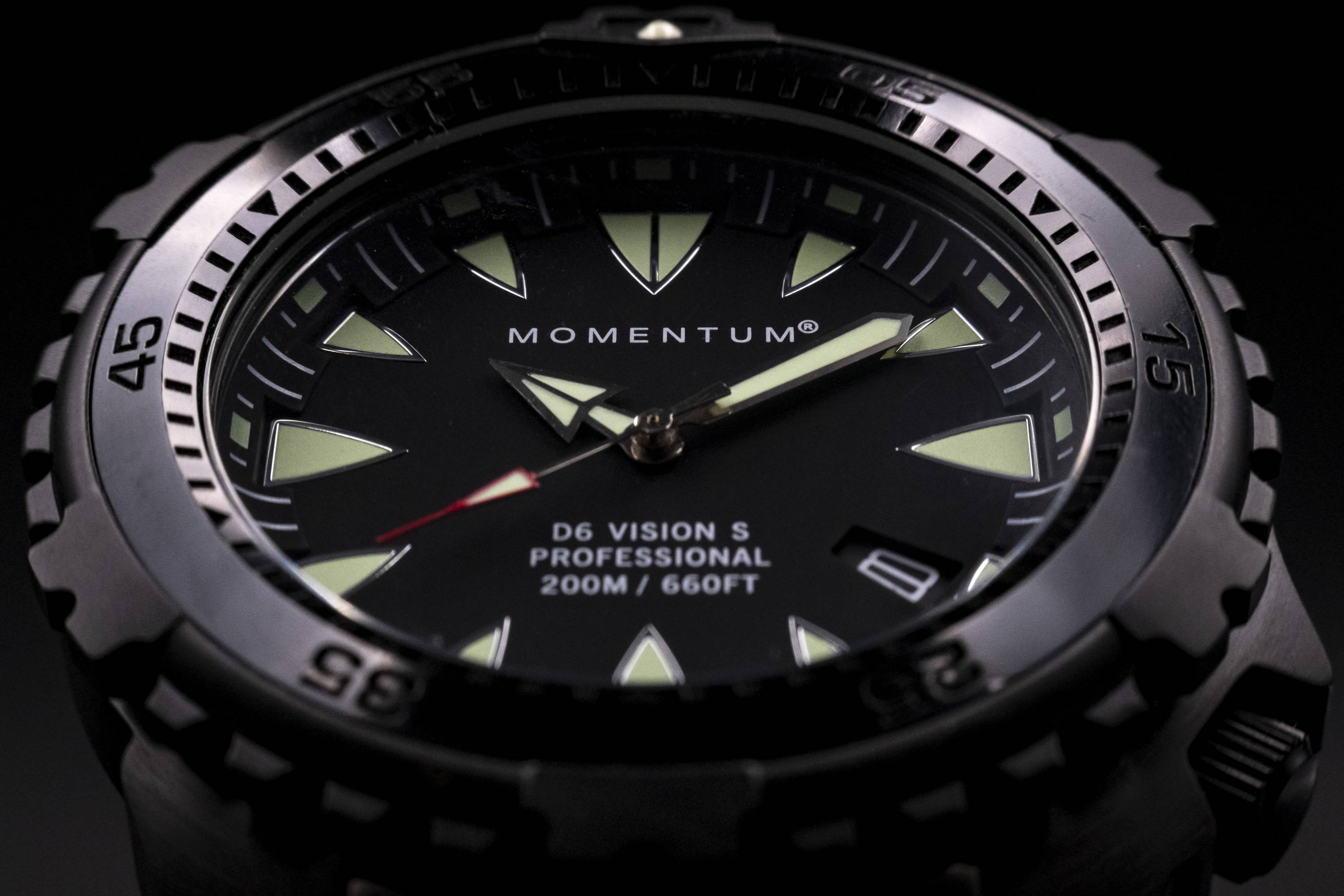 ---
All Deep 6 Vision models feature a 47mm black-ion steel case. The shape of the case allows the watch to fit well on a range of wrists. It is the perfect blend of bold and inconspicuous.
---
The faces of the Visions are what sets them apart. If you have sharp eyes, the Deep 6 Vision features a black-on-black "stealth" face. If you prefer a more legible, hi-contrast dial with classic green luminous, take a look at the Deep 6 Night Vision with a wave-textured dial, or the Deep 6 Vision SE with distinctive "shark-tooth" indices.
---
The screw down crown helps the Deep 6 achieve a 200M depth-rating for confidence in the water. The 4 o'clock, off-set position of the crown also ensures a "no-bite", more comfortable fit on the wrist.
---

I thought I might not be able to tell time at night, but for a watch so cool, it was worth the inconvenience. Truth is, I can see the hands at night. This may be the most unique and coolest watch ever. This is my second Momentum watch. The other is about 7 years old and still looks new with the sapphire crystal- That is highly recommended, holds up through the years without a scratch.

Best Looking Watch I Have Ever Owned
This is easily the best looking watch I have ever owned.... Fit and finish is extremely good. The band is nice and thick, bezel rotates smoothly with nice tactile feedback. The face is large, but I'm a large guy and prefer larger watches. I really like the crown at the 4 o'clock position too. So far hasn't lost a single sec.

This watch was my first experience with Momentum and I was pleasantly surprised. The watch is well made and very good quality for the money. Easy to read, keeping good time and very comfortable. I would recommend.
Know early and receive exclusive discounts.